Booking Information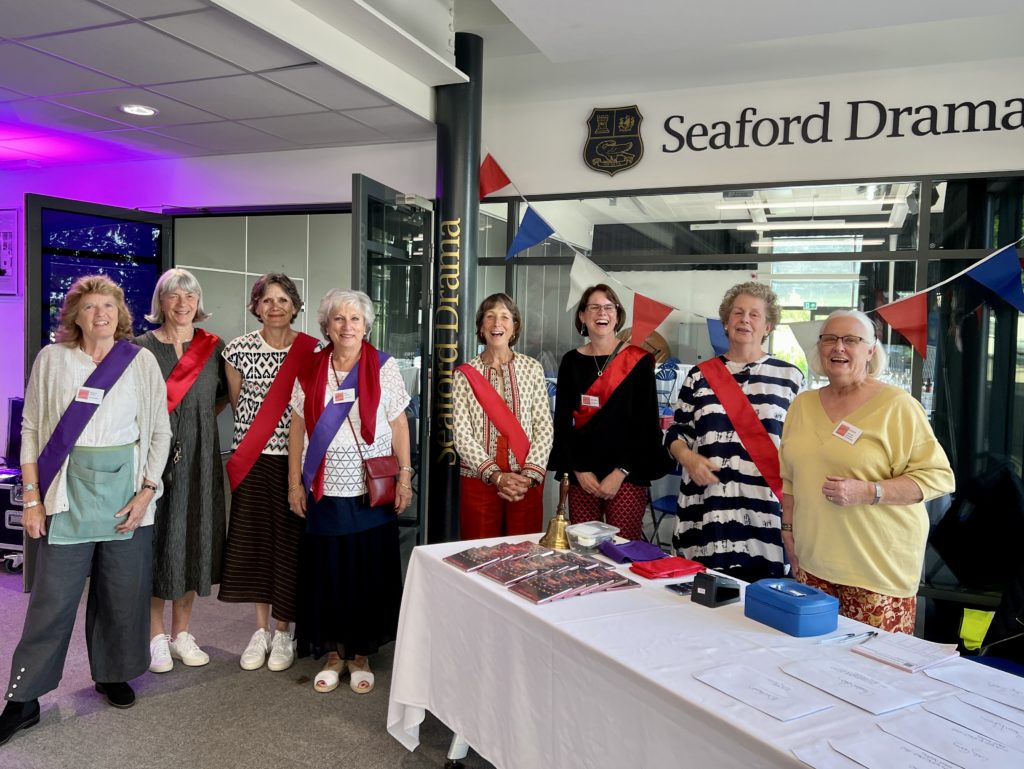 The fabulous Front of House volunteers at our Jubilation event in May 2022
NEW! 2023 Festival Vouchers
Treat your favourite people to a trip to the 2023 Petworth Festival and let them choose their events with a gift voucher … a perfect gift for those who love music, literature and live arts events.
Our Gift Vouchers are valid for the 2023 Summer and Literary Petworth Festivals and may be exchanged wholly or in-part for tickets for any 2023 Festival event, once the box office has opened.
The vouchers can also be redeemed at any time against a donation to become a Friend or Patron of the 2023 Festival.
Vouchers purchased will be delivered by email. The vouchers provide the recipient with a code that they can use to redeem on purchase.
Festival Dates
2023 Summer Festival
Tuesday 11 – Saturday 29 July *
2023 Petworth Festival Literary Week
Friday 27 October – Sunday 5 November
*Please see 'Become a Patron or a Friend' page for details on how to support the festival and take advantage of the priority booking period, which gives early bird access and a 10% discount on tickets purchased.
How to Book
To book online, please click on the red 'Book Now' box on the listing page for the relevant event. Please note, this will open up a new window and take you to our third-party booking site Ticketsolve where you can login to book tickets. You must be logged into your Ticketsolve account in order to make a booking.
If this is your first time booking online with the festival, you will first need to Register. (The login/register link can be found in the top right-hand corner of our third-party booking site Ticketsolve.)
Most credit and debit cards are accepted
Telephone opening times: 10am – 1pm
Closed Sundays
If you require a wheelchair access seat or extra assistance and/or are a carer for a disabled person please telephone the Festival Office on 01798 343055.
Please visit our Venues page for information specific to each venue.
Further Information for Events
Covid-19
To ensure the safety of our audiences, staff and authors we ask anyone who has not been doubly-vaccinated to do a lateral flow test before coming to the event. Please do not attend if the test is positive.
Champs Hill Waltham Park Road, Coldwaltham RH20 1LY
Coultershaw Heritage Site Coultershaw Bridge, Petworth GU28 0JE
Leconfield Hall Market Square, Petworth GU28 0AH Midhurst Rother College North Street, Midhurst GU29 9DT
Newlands House Gallery Pound Street, Petworth GU28 0DX (please use Hungry Guest Café entrance via Town Car Park)
Petworth House Pleasure Gardens / Stable Yard Petworth GU28 0AE
Sacred Heart Church Angel Street, Petworth GU28 0BG
Sofas & Stuff The Dairy, Farm Buildings, Tripp Hill, Pulborough RH20 1ER
St Giles' Church Graffham GU28 0NJ
St Mary's Church Easebourne, Midhurst GU29 0AJ St Mary's Church Petworth GU28 0AE
United Reformed Church 3 Damer's Bridge, Petworth GU28 0AW
There are licensed bars at St. Mary's Church Petworth, the Stable Yard at Petworth House, Leconfield Hall and Midhurst Rother College. All venues apart from Sacred Heart Church and the United Reformed Church have accessible toilet facilities.
All venues apart from Newlands House Gallery and the United Reformed Church have wheelchair access. The United Reformed Church has access via a stairlift.
St Mary's, Leconfield Hall, URC, Petworth House Stable Yard, Newlands House Gallery: please park in Petworth Town Car Park GU28 0AP
Sacred Heart, Petworth: limited parking outside church
Champs Hill, Coultershaw, MRC, St Mary's Easebourne, Sofas & Stuff: ample parking at venue
St Giles' Church, Graffham: parking at Graffham CE Primary School opposite church
Petworth House Pleasure Garden: either use Town Car Park and enter via Church Lodge, or use National Trust Petworth Park parking (limited space)
Limited disabled parking for St Mary's and Petworth House outside Church Lodge
Once purchased, tickets cannot be exchanged. Refunds are not given unless the event is cancelled.
The information contained in our brochures and on our website was correct at the time of publishing but may be subject to subsequent alteration.
The purchase of a ticket indicates permission for Petworth Festival Ltd to use photographs of events in which you might appear for publicity purposes. Please let Petworth Festival Ltd know immediately if you do not want your image used in this way.
All guidance regarding health and safety must be adhered to whilst attending our events. Thank you.